In Memory
Johnny Arms VIEW PROFILE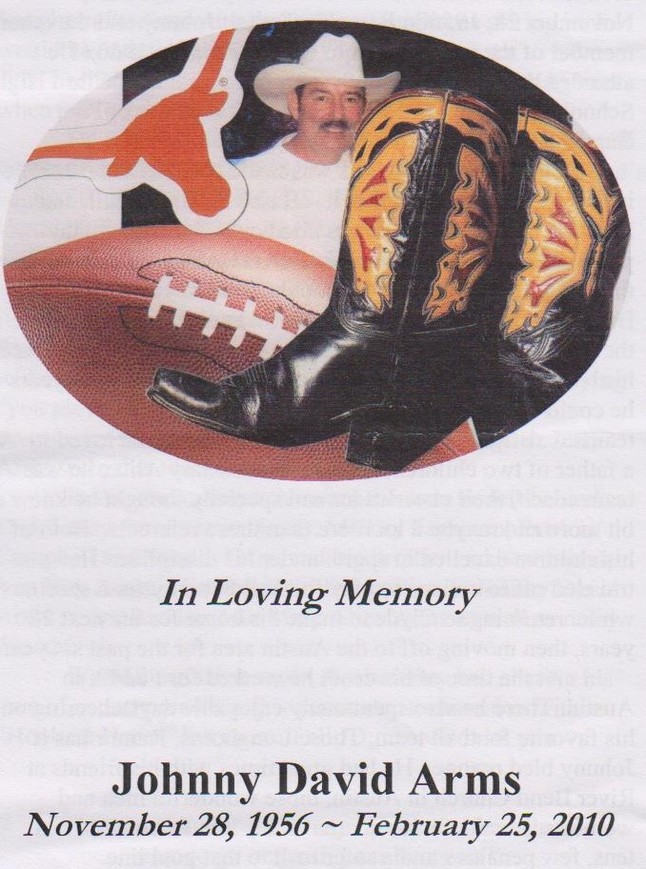 November 28, 1956 - February 25, 2010
Johnny Arms passed away on February 25, 2010 due to complications from the H1N1 virus.
I had the good fortune of being with Johnny a couple of days before he was released from the hospital in Austin; he had been there for over 70 days. We had a long talk about everything from our high school days to what we had been doing recently. He told me that when he was over his illness and in better health we should take in a Horns baseball game and I agreed. We talked about all our high school buddies and that it would be great to have a class reunion this fall for everyone to catch up with each other. A couple of days later he was released and went home to his Dad's house in Clyde.
That next weekend Jimmy May and I stopped in to check on Johnny. Johnny was very alert and kept Jimmy and I laughing the whole time. I was pleased to see that he was looking much better than the previous week and believed he would be ok. I was surprised to get the news less than a week later that he had passed.
Even though I have experienced the loss of my Dad, other family members and loved ones like I am sure most of you have, losing Johnny just hit me harder. He was one of us and one of my first friends ever, meeting when we were no more than 5 years old. I will miss him; those last days we shared seem so precious now.
Chuck Swofford
Click here to see Johnny's last Profile entry.